Regular price
$13.99 USD
Sale price
$13.99 USD
Unit price
per
Sale
Sold out
3-in-1 Solution On-the-go: Say goodbye to separate products and enjoy the convenience of a single solution with this travel-size, all-in-one mouthwash, aligner cleaner and foam toothpaste. Keep both your mouth and aligner/retainer/mouth guard clean after coffee, snacks, or any time you need a quick pick-me-up!
Fresh Breath and Healthy Teeth: This product effectively removes bad breath and plague and tartar buildup. The refreshing mint, cucumber, and lime flavor will make your breath as fresh as a summer detox water! Inspired by drinks and approved by foodies
Clean and Sparkling Aligners: It cleans and freshens aligners, mouthguards, night guards, dentures and retainers, Invisalign, Smile Club, Byte, Candid (any brand you name!) No more decay, odor, or discoloration - just a sparkling smile! The best Invisalign Cleaning Crystal alternative!
Easy Peasy: To clean aligners, apply 1-2 pumps of the solution to your aligners, let it sit for a few minutes while you eat or drink, then rinse. To use as a mouth rinse, apply 1-2 pumps to your mouth and swish for 30 seconds before spitting.
Healthy and Clean: This alcohol-free, fluoride-free, and paraben-free formula is gentle and safe for those with sensitive mouths. Enjoy a deep clean and fresh breath without any discomfort or irritation
Share
Ingredients

Aqua, Glycerin, Xylitol, PEG- 6, Sodium Phytate, Tetrasodium Pyrophosphate, Betaine, Sodium Benzoate, Citric acid, Aroma, PVP, Cellulose Gum, Papain, Bromelain
How to use

To clean aligners, apply 1-2 pumps of the solution to your aligners, let it sit for a few minutes while you eat or drink, then rinse.
To use as a mouth rinse, apply 1-2 pumps to your mouth and swish for 30 seconds before spitting.
To use as a toohtpaste, apply 1-2 pumps to your mouth and brush your teeth for 2 minutes then rinse.
Shipping

Free shipping for orders above $20 within US.

After your payment is verified, it may take up to 24 hours to process and ship your order. This does not include weekends or holidays.

Delivery Time: 3 Business Days US East, 5-6 Business Days US West
Return policy

We offer a 100% money back guarantee. Please contact hello@fizzyoral.com to initiate a return. For more information, please refer to our Refund Policy.
View full details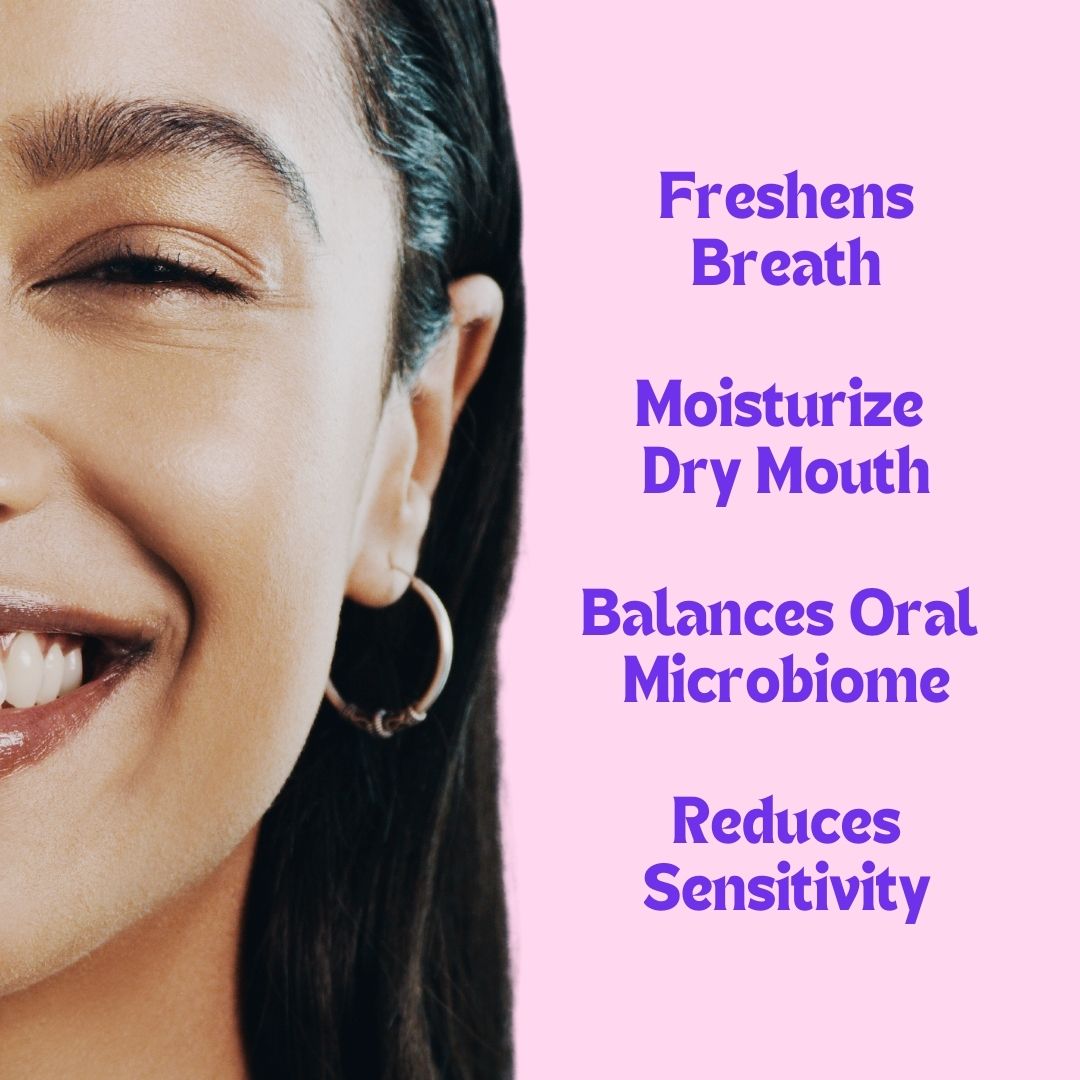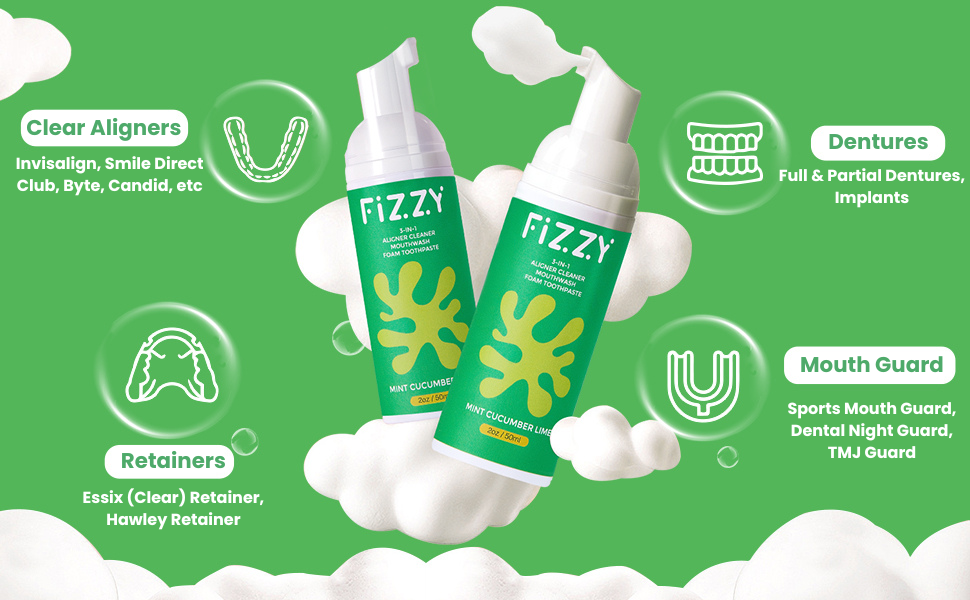 Foam cleaner for aligners, retainers, dentures and mouth guards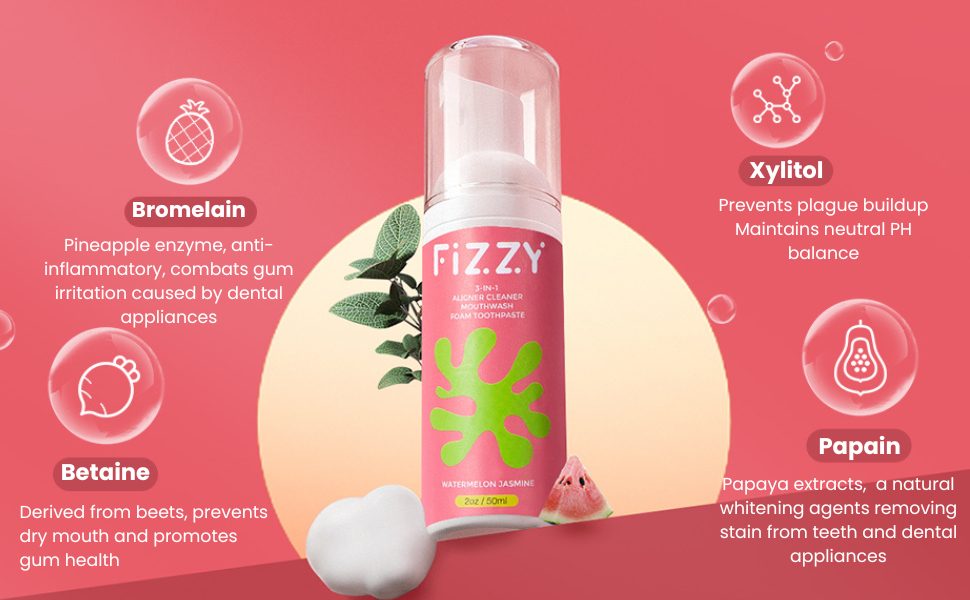 Natural Ingredients for Oral Health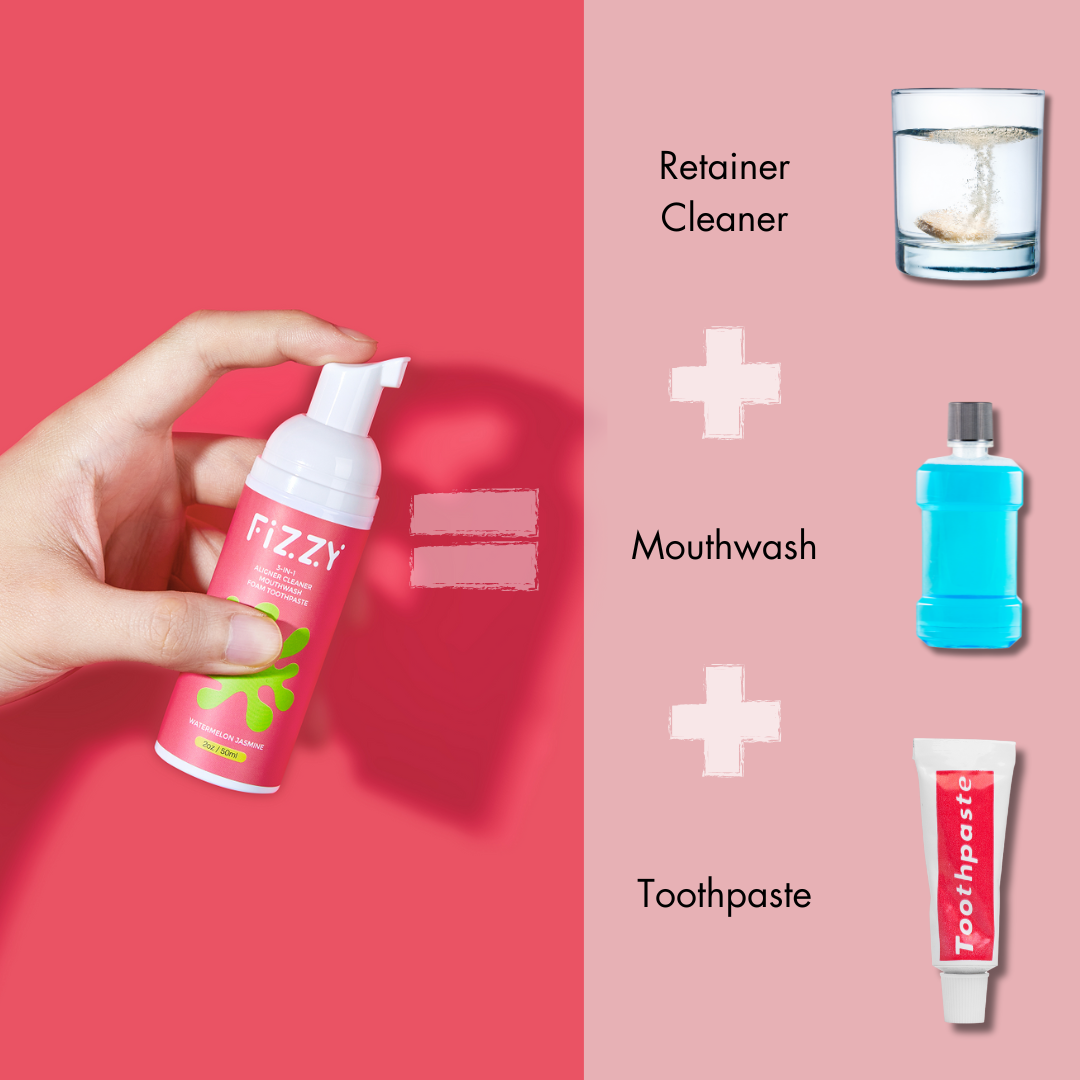 3-in-1 Solution
Our versatile foam cleaner not only cleans dental devices, but also doubles up as mouthwash or foam toothpaste. Keep your smile fresh and clean, no matter where you are.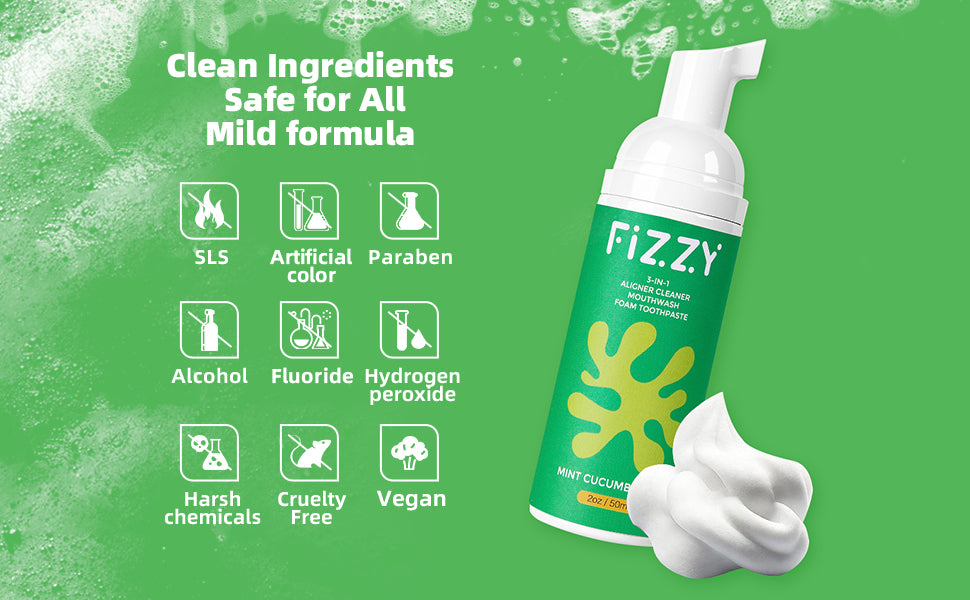 FAQ About Fizzy Foam Cleaner
What kind of dental appliances can I use the Fizzy foam cleaner on?

Fizzy's 3-in-1 foam cleaner is very versatile! It is retainer cleaner, aligner cleaner, mouth guard cleaner, night guard cleaner, denture cleaner and mouthwash and foam toothpaste! It can be used on all clear aligner brands (Invisalign, Bite, Smile Direct Club, Candid, etc), retainers (Essix retainers/clear retainers, Hawley retainers), dental night guards, sports mouthguards and denture etc. It can be also used as a mouthwash or a foam toothpaste.
I'm already using other types of aligner cleaner, such as tablets. Why is Fizzy 3-in-1 aligner solution necessary?

While tablets can clean and disinfect aligners, they are not designed for on-the-go and you can't use them as mouthwash. Fizzy aligner solution combines the benefits of both products into one convenient and effective solution. It allows you to quickly clean and freshen your aligners and mouth after snacking or drinking while you're out and about. It's a perfect solution for those who live a busy lifestyle or who want to simplify their oral care routine without sacrificing effectiveness.
Why is oral hygiene important for aligner wearers?

Oral hygiene is crucial for aligner wearers because aligners are worn for many hours day and can trap bacteria and food particles against the teeth and gums. Without proper oral care, this can lead to the accumulation of plaque and tartar, which can result in bad breath, tooth decay, cavities and gum disease. Aligner wearers also need to maintain good oral hygiene to ensure their aligners remain clean and clear, to prevent discoloration, odor that affect the aligners' appearance and effectiveness.
Are your products safe to use?

Absolutely! We take our commitment to safe and clean products seriously. All of our products are free of alcohol, parabens, fluoride, and artificial colors. We prioritize natural ingredients whenever possible, but when synthetic ingredients are necessary to meet our efficacy standards, we carefully choose from the lowest impact options available, all of which are graded green by the Environmental Working Group (EWG).
Is Fizzy 3-in-1 Aligner Cleaner TSA compliant? Can I take it on a plane?

It is and you can definitely fly with it! The product doesn't contain any aerosol and is 2oz, below the travel-size limit according to TSA.
How long does one bottle last?

Each bottle contains approximately 100 pumps. So one bottle can last 1-2 months depend on your usage.
How do you use Fizzy 3-in-1 foam cleaner?

To use as a retainer cleaner/aligner cleaner/mouth guard cleaner/night guard cleaner/denture cleaner:

Remove your aligners/retainers/mouth guard/denture/night guard and apply 1-2 pumps of the solution to it.
Let the solution sit on the aligner for at least 5 minutes. 
Rinse the aligner with water before putting it back on.

To use as mouthwash or breath freshener: apply 1-2 pumps of the solution to your mouth. Swish the solution around your mouth for 30 seconds before spitting it out.

To use as a toothpaste: Apply 1-2 pumps of the foam to your mouth (not your brush!), brush for 2 minutes and rinse with water.
Does it contain fluoride?

No, it does not contain fluoride.
Are your products tested on animals?

Absolutely not! We'd never hurt our furry friends.
Good cleaner
This keeps my retainer fresh and clean, but i do wish there was an option for just mint scent. But it's a great product.
Great cleaner for retainer
This foam retainer cleaner is surprisingly refreshing and leaves my teeth feeling clean. I enjoy the lack of fluoride and alcohol in the formula.
Effortless Retainer Refresh
The fresh scent and taste of this retainer cleaner are unmatched. It makes cleaning retainers and mouthguards a breeze.
Fresh and Sparkling Retainers
I'm impressed with how this foam retainer cleaner works. It's easy to use and makes my retainers sparkle. The fresh mint cucumber lime scent is a bonus!
Effective Retainer Cleaner and great smell
This foam retainer cleaner is unique and awesome! The lime cucumber flavor is refreshing, and it leaves my retainers smelling really clean.